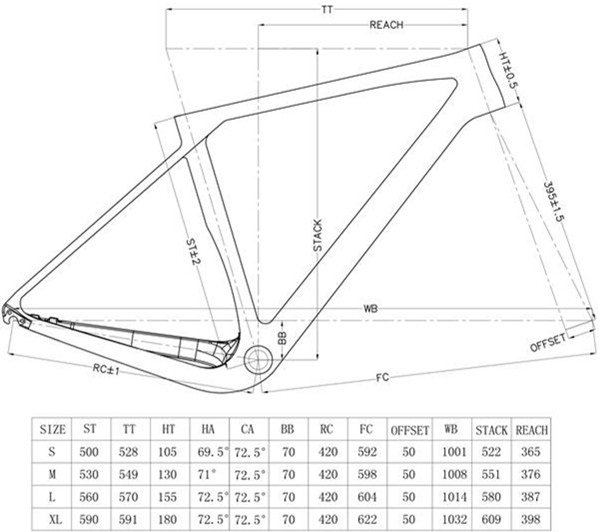 One Frame More Bikes
Frame is perfect for all activities. You can use it for road, gravel or mountain biking. Simply change wheels, eventually chain rings or cassettes. You can use road (700c 25/28mm), cross (700c 38/40mm) and mtb (27.5ER-650B 2.1") wheel set.
Special rear fork and bottom bracket
Dropped chain stay for possibility to use road crank set and together mtb 650b 2.0" tires. This chain stay contributes to maximum rigidity of full carbon bottom bracket.
Flat mount brakes mount
Newest type of disc brake mounting enable to use new and lightest road calipers.
Overall stiffness and wheel axles

Most stressed parts of the frame are robust to keep the ideal frame stiffness. Front fork is equipped by Ø 15mm axle 15*100mm and rear Ø 12mm axle 12*142mm.
Aerodynamic design
aero-futuristic shape - slice through the air cleanly.
Precise material handling
All frames are hand made and in consistent with PU high density mold technology we increase durability and decrease frame weight.
Di2 compatible - frame is Di2 ready.
Tapper headset
The headset is 1 1/8'' at the top and 1 1/2'' at the bottom. Thinner top saves weight, while thicker bottom makes steering more stable.
Internal Cable routing
We hide all shifting and brake cables inside – hidden routing looks great and guarantee top functionality for shifting. All is hidden against mud and dust.
Carrier
Front and rear fork is equipped by threads for carriers.